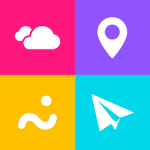 You are in the right place if you are looking for Logo Quiz 2023 Level 77 Answers. Logo Quiz is a popular puzzle game that challenges players to identify logos of different brands and companies. The game typically presents players with a series of logo images and asks them to guess the name of the brand or company associated with each logo. The logos can be of well-known international brands or local businesses. The game is available on iOS and Android devices.
On our website, you can find all the answers for Logo Quiz 2023. Make sure to visit our website back for the remaining levels of the Logo Quiz 2022 game.
FAIRTRADE
GAZPROM
CLAUSTHALER
4CHAN
MORTAL KOMBAT
VIKINGS
RC COLA
PERISCOPE
HARIBO
TUNEIN
WRIGLEY'S SPEARMINT
ALPINA
ROTTEN TOMATOES
CATERHAM
FIDELITY INVESTMENTS
Please click on the link If you are looking for more Logo Quiz 2023 Answers.