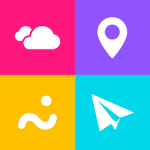 One of the things that make the Logo Quiz so appealing is its simplicity. The game has a user-friendly interface, and the rules are easy to understand, making it accessible to players of all ages and skill levels. The game also allows players to earn points and advance through levels, making it a competitive and engaging experience.
The Logo Quiz is constantly evolving, with new logos and challenges added regularly to keep the game fresh and exciting. Recently, a new chapter with flags has been added, challenging players to identify the flags of different countries from around the world. This new chapter adds a new dimension to the game, and it is a great way for players to test their knowledge of world geography and international flags. So if you've already mastered the logos, give the new chapter with flags a try and see how many countries you can identify! Below you will be able to find all the answers for the flags that are you looking for:
Logo Quiz 2023 Flags Answers
Logo Quiz is a fun and addictive trivia game that is perfect for anyone who loves branding and advertising. With its user-friendly interface, wide range of logos, and challenging gameplay, the Logo Quiz is a must-have app for anyone who loves to test their knowledge and have fun while doing it. So download the Logo Quiz today and see how many logos you can identify!